The Kicks is a teen-based comedy show about Devin Burke, a girl who was the star player on her soccer team back home until her family moved to California. Now, Devin has to rise to the challenge after discovering that her new school team has been on a losing streak and is badly in need of a leader to turn things around. [IMDB]
Gabe Eggerling is quickly making a name for himself with buzz-worthy acting roles and philanthropic contributions. Gabe stars as tech-driven and talented photographer, "Bailey Burke" in Amazon's original series The Kicks. "I am so proud to be a part of a family TV show that supports girls in sports. It's a current topic, and pioneering a unique concept is exciting and doesn't feel like pressure at all." He then breaks down what The Kicks will really be about. "The Kicks deals with family and friend issues, as well as soccer, so there are many layers in season one."
The summer release of the soccer comedy is based on Olympic gold medalist soccer star, Alex Morgan's New York Times bestselling YA book series. While the rest of the world calls it Football the sport isn't very famous in America as the majority love American Football, Gabe on the other is a fan. "Yes I am a fan! I have followed soccer with my dad for years. We even hosted a viewing party for the Women's World Cup Championship match last summer when we beat Japan." He also watched the upset of Portugal against France in the Euros. "A standout moment in the Euro Cup was Portugal's upset in the final against France." He also hopes that the success of Alex Morgan will make viewers tune in to the series. "With all the buzz of the Olympics this summer, the success of Alex Morgan and the USWNT, hopefully our show will also bring more attention to soccer when it premieres August 26th."
The versatile actor has expanded his talents to include animation voice-over work. "I am so happy that I get to work in both voice over and live action." He voices the title role of "Jake" in Disney Junior's hit series Jake and the Never Land Pirates, "Fluke" in Sofia the First, as well as Princess Jasmine's pet elephant "Taj" in Whisker Haven Tales with the Palace Pets. "They are very different to me, and I love the variety." Other animated lead roles include The Weinstein's films Santa's Apprentice and The Trick or Treaters.
"Voice over is high energy, not memorized and sometimes I even get to sing. I wear comfy clothes, record solo with the client and dialogue director, and it's usually a shorter day. I love creating new funny voices and have met so many unbelievable voice over actors." He then explains the difference with being on set on a movie or series. "Being on camera requires hair and makeup visits, memorizing lines, hitting marks and rehearsal's and redirects. I love the challenge with how much is always going on at once. My scenes are usually with other actors which is dynamic and makes the scene come to life." He is also a learner and a team player, "I totally love the set designs and learning from the cinematographer, sound team, cast mates and of course the director."
Gabe is a philanthropist and he has some wise words,"I think when your heart tells you to go in a certain direction, all the cool things drop from the sky. Don't confuse it with luck, because it takes courage and dedication to move forward, but when people see you are genuine and after something real…they are nice and ready to help you."
Off screen, Gabe is an avid reader, a member of Mensa and John Hopkins Center for Talented Youth. He had the honor of being featured alongside luminaries such as First Lady Michelle Obama, Malala Yousafzai, Mark Wahlberg, and Gwenyth Paltrow in renowned photographer John Russo's charity book 100 Making a Difference, which highlights how they are changing the world through their philanthropy. The book launches this September. He counts how his journey has fared so far, "I wanted to read Jim Carrey's new children's book "How Roland Rolls" during my TEDx Talk, so I called him and left him a message. He called back the same day, and BOOM…permission granted! He even invited me to his book launch, and spent time talking to me about my work." He also got to meet with Chirs O'Donnell!, "I am also extremely grateful to have worked with Chris O'Donnell and celebrity photographer John Russo. After we finished a weekend fashion campaign for Sacoor Bros, he listened to me talk about my charity work and the next thing you know I was with John in LA shooting a portrait for a book called "100 Making a Difference"." Not only that but the First Lady too. "I had no idea that Michelle Obama, Malala and Mark Wahlberg were photographed already! It is so important to give back and I can't wait to meet the other celebrities at the book launch in September. It will be such an honor."
At some point in our life we look back to see what we have accomplished. At a young age he has done so much but he has his favourite moment. "I would have to say public speaking, because it is out of my comfort zone. So my TEDx Talk for example…writing an inspiring talk with all of the do's and don'ts of the TED world, and talking in front of thousands of people with no teleprompter was nerve racking." He also adds another outstanding moment for him is, "Speaking again for Points of Light with former President Bush and family in the audience was also huge for me. I wrote a speech honoring a boy who lost his life in the Boston Marathon bombing, and all I could think of behind the stage was to deliver my feelings without crying in front of all those people. I guess my point is that I feel most proud inside when I finish something I was first scared to take on."
He has a certain connection with his character 'Bailey Burke' on The Kicks, "I love playing Bailey Burke on The Kicks! I personally relate to him with interests in video games, photography and pop culture, and can't wait for everyone to meet him." He also adds how his mom played a role in his development, "My mom worked with known photographers, so I grew up around amazing photographs. Now I'm truly working on my own photography skills, which started as basic research for my character and where Bailey's story arc was headed." He has also spent time talking with the writers about their inspirations, "It's crazy how many little parallels were written into the episodes. It was so much fun talking to the writer's each day on set and hearing the side stories of their inspiration." But he stresses that all the characters are relatable on The Kicks, "I think Bailey, and all the characters on The Kicks are relatable because of that." However there is one difference between him and his character, "One difference is that I do play team soccer and tennis, while Bailey is not known for his athletic abilities."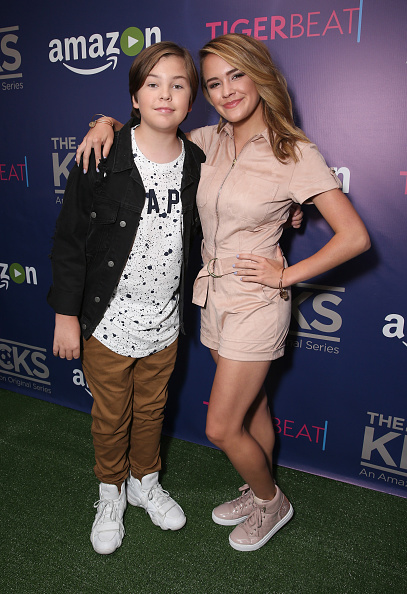 Being in the industry has its perks and Gabe enjoys them by getting inspired by the talent around him. "I can't think of a perk from being on screen, but there are so many benefits from working in the industry. I'm grateful to be surrounded by creative and talented people. It inspires me to be my best, and I have made some truly amazing friendships." However he along with countless others in the biz don't like to watch themselves on screen, "I can say however, that most of the time I do not enjoy watching myself on screen because I can't stop thinking of the things I would have done differently."
With everything he has achieved, Gabe has people he can count on too. "My family for sure. There's a saying in a book about working some, playing some, and being kind…like what you learned in kindergarten. I think that is the best support I could have." And a wonderful one too! "My dad works hard and loves being a chef, and let's the bad stuff roll off his back. When I get too serious about school or reaching a goal, my little brother Tristian throws in the comic relief. But biggest of all, my mom gives me unconditional love, keeps it real and reminds me to be kind to myself and others. Without my family, I would be out of balance."
Getting a bit more personal, Gabe has already mentioned he enjoys photography but where does he see himself in a few years? – "Education is very important to me, so graduating from a great college is key. I love architecture and technology, so I'm thinking an architect would be cool." And he also has short term plans, "Shorter term…I want to travel, learn photography and work on a dramatic feature film."
He then recounted how he got into the industry and it was all thanks to Mom. "A documentary photographer who worked with my mom took photos of me for years when I was very little. Those photos led to a commercial audition and booking for a Target Christmas campaign when I was six." He is a Star Wars fan too! "I remember I was dressed as Luke Skywalker trick or treating with my brother, aka Yoda, when we got the call. I'll never forget that feeling. Next, I got turned on to scripts. Reading books and stories was my favorite thing to do, so getting scripts and auditions for TV and film was super exciting!"
With everything going on he still has time for himself to relax and catch up on some TV. "Summer TV binge: Gilmore Girls, which I have my entire family hooked. I'm half way through season 7, so I'll be ready for the Gilmore Girls "Seasons" revival this November. I also love Scorpion and Arrow." He is an avid reader and has a huge collection of books. ""Wings of Fire" by Tui T. Sutherland is my favorite series. I have read 8 so far, and waiting for the 9th book to come out later this year. I also love the "Spirit Animals" series and anything by Shel Silverstein. I decided to read classics this summer, so I'm currently reading "Watership Down" by Richard Adams…I love the character Fiver. I also have "Sherlock Holmes" and "Moby Dick" on my desk to choose from next."
The Kicks premieres on 26th August on Amazon Prime (Full Season Release).