"How has your 2016 been like?" – is the first question anyone asks during the holidays as we are hours away from a new year. For Katherine, "this year has been an incredible one. I feel like I have been at a constant sprint and always out of breath but always feeling that euphoria of accomplishing hard work." She is also very optimistic of her future and what is in store for her, "Overall, the year has had ups and downs but it leaves a great deal of potential for the future and for that I am supremely excited."
I remember checking on the latest updates on renewal last year, it was a moment of excitement and fear as many series got the thumbs up while others axed. In the same way the cast of Shadowhunters patiently awaited for the good news. "I was constantly wondering and hoping we would have the opportunity to continue. We all learned so much season one, I was dying for the chance to apply what we learned. I'm so psyched for everyone to see season 2. Its a great second chapter to our story."
Often, we all wondered how life has changed for her, after having a solid role as Clary Fray in Shadowhunters and an enormous fan base of more than 2 million followers in social media and tons of websites dedicated to her. "Its funny everyone asks me this and I can only explain it by saying everything has changed and yet everything is the same. The show has definitely opened up more doors for me and given me a bit more notoriety in the industry, but at the core, I'm still me." Apparently not much! "I still live my life the same way every day, I'm just a bit busier sometimes."
Last season left us fans in a worrisome state – Jace leaving to join his father. Pushing to ask her more about it she only adds more to our misery. Noone is safe from going through a test this season! "Please go into this season expecting the unexpected. Not only have we completely reworked the show tonally, but we have added so many new shocking twists this season – no character escapes unscathed. Be ready for anything."
However she did give us a small overlay of how the second season should be like. "I can say that we dive into the relationships and character development quite heavily this season." Are you thinking what I am thinking? Because I so wanna see Simon and Isabelle together. "Now that we have established the world and the characters, it allows us to delve into their backstories, their families, what makes them who they are at their core. From there we then push those boundaries and see them in situations and emotional places you don't have the opportunity to experience in the books."
Recent reports have confirmed this season will be leaning more on the books. If you have read the books like my sister has (I am more of a TV person) you should not fear. Your teacher can't threaten you with spoilers like he/she could've for Game of Thrones. "Oh as a reader and huge fan of the books myself, I can say first-hand, you won't see anything coming." You will be experiencing a lot of emotions at once. "I was shocked and literally gasping, laughing, and crying as I read the scripts this season. I think our writers have been able to strike the perfect balance of bringing characters, moments, and even full scenes from the books to life, while still providing a new story that will keep even the most avid reader on their toes."
The age old question of Books vs Movies never dies. "I love both. I was the most voracious reader as a kid and still am when I have the time, but I'm also as guilty as any of us of going on a massive Netflix binge or movie marathon from time to time. Not matter the medium, I'm a sucker for a good story."
---
Before you continue reading, here is a throwback of what happened the last time Shadowhunters was on.
---
Malec, Sizzy, Clace etc. Admit it you have shipped them more than once and still continue to do so. I decided to ask Katherine which one she likes most – turns out like us she loves them all! "ALL OF THE SHIPS! I love them all – I cannot choose. But that is one element of this series I love. You come to care so much about the characters and the relationships that there are so many viable combinations it can make your head spin. No matter what your favorite ship is, you will see glimmers of all of it in this season. It is all a part of the journey for each character."
While on the matter of ships, there are some characters that are 'destined' to be together while others just happen to randomly connect and turn out to be amazing. Which ones do you prefer? While you think about your answer, Katherine says, "I do and I don't. I love knowing the characters will have a happy ending but there's nothing better than the unsuspecting true love coming out in the end or that heartbreak of doubt that your favorite couple may not actually end up together. I just love a good love story."
While some have said (myself included) that the first season had a degree of predictability which took the edge off for a bit. In regards to that this season will blow our minds out to the point we say 'I can't take it anymore!' On a scale of 1 to 10, according to Katherine this season will be: "25." Now I know that isn't what you learn in school but that only means that it will be epic. Yes let it sink in. She adds, "The number of times I gasped or my jaw dropped reading scripts for the season is mind blowing. They have really upped the stakes and the suspense this season. Get ready for an emotional ride."
Going for a bit more, hoping to find which episode will truly leave us hanging on our toes, her reply just leaves me astonished. It seems like I have to buy tons of popcorn because the episodes which will leave you mind-blown are: "Hmmm well we have only shot the first 10 but…. 4, 9, 1, 3, 6, 5, 8, 2, 7, and uh 10."
I for one loved Jocelyn even though she literally slept through he whole last season the flashbacks of the past were amazing. We all love a family reunion and this time we will get to see first hand more of the mother-daughter relationship grow. In her own words – "Yes indeed! Now that Jocelyn is back, she becomes a bit of a wild card as she has her own agenda when it comes to Valentine and her children and how to make amends with the Clave for her past actions. With Clary, its a bit of a struggle as she still sees her as the little girl from episode 1. Clary isn't that person anymore and is desperate for Jocelyn to trust her as an adult and as a Shadowhunter, but she isn't so sure she can even trust the woman who lied to her for 18 years." – Let the drama begin.
Jocelyn can be regarded as good person or a bad person. It depends on your perspective, was she a mother trying to keep her daughter away from all the evils of the world or was she a liar who didn't tell her daughter what life will be like and just vanished. That is your call to make. What really matters is whether you like a good villain played by Alan Van Sprang. If you do we are in the same team and it is not a bad thing – "Not at all! I think we all love to hate a good villain. Especially one as gloriously vile as the Valentine that Alan Van Sprang creates. I actually got to work with him a bit more this season and its only made me love the character more. We have a plethora of good questionable characters this season…"
One of the major aspects of a show is how the cast work with each other aka 'Chemistry.' Have you ever seen a movie or a show where the main characters look like they are having awkward moments every second? That simply says that they lack chemistry. However when it comes to Shadowhunters you can feel the chemistry is high and the smiles even on camera are genuine. But the question is how? "Time, blood, sweat, tears, laughs, and a lot of night shoots. We have seen each other at our best and our worst. Vulnerability brings people close. It only makes me love everyone even more though."
Everyone of us has his/her reason to watch this season. Some for the plot, others for a real life preview of what they read, some for the ships they like. I personally want to see Valentine wreak havoc. For Katherine, "I look forward to fans seeing the new take on this world and the further development of the characters."
Some of the fans also love doing some beautiful art pieces or just draw runes on their tablet's covers such as this: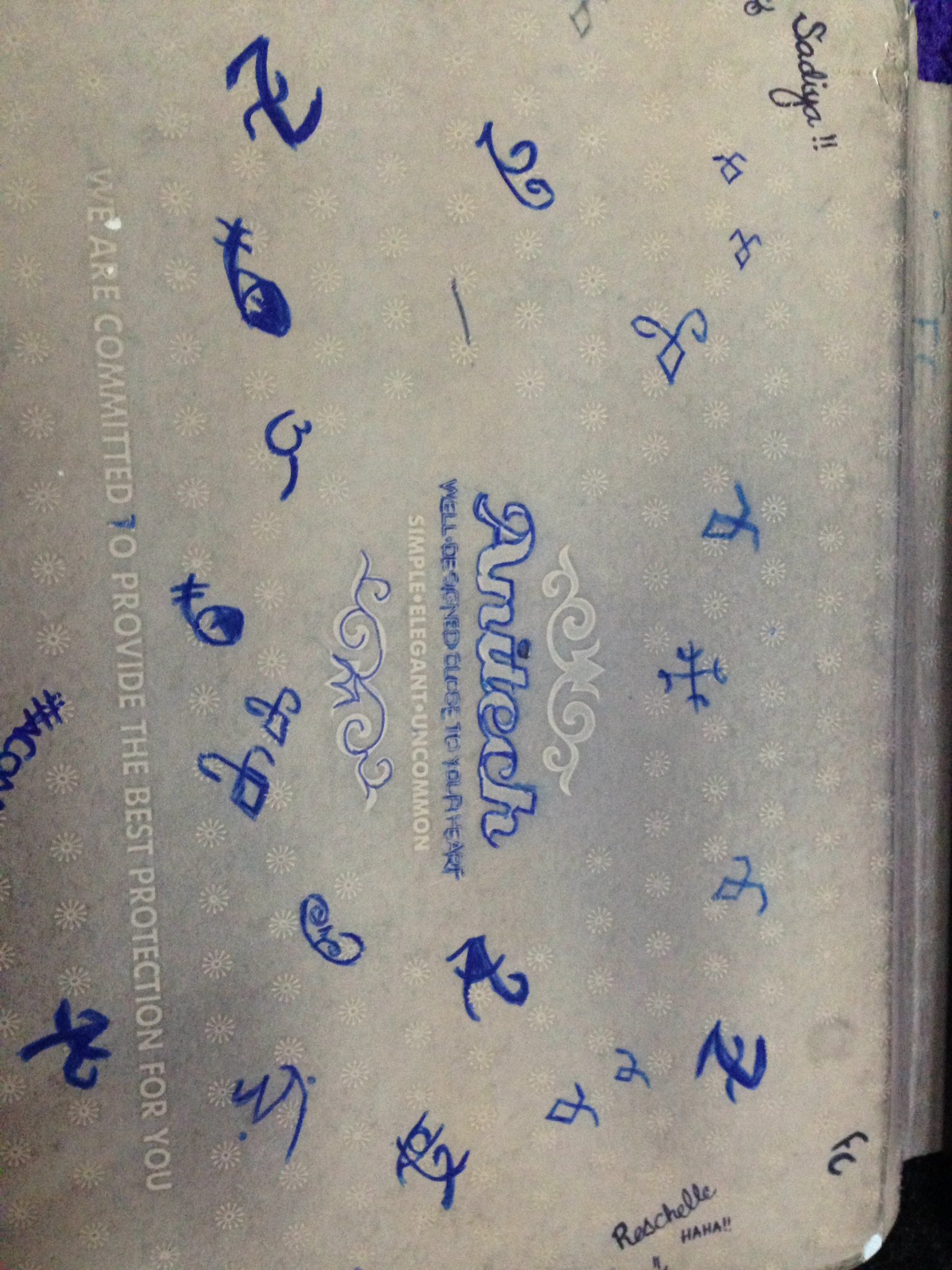 Your efforts are not ignored but appreciated, "I'm constantly impressed by the fandom. Their passion and creativity is a daily inspiration. Being a fan of the books myself, I love seeing what people attach to and how they feel about different plot points in the books and the show"
---
This week twitter has been treding with of #IPredictIn2017 or #NewYearsResolutions. Her bucket list for 2017 includes, "I want to do all the things! All jokes aside, I'm someone who wants to do a bit of everything. I'm at a point in my life where I am looking to embrace new experiences whether they come from career or personal life. I'm all about saying yes to whatever life throws my way."
She has been on many series and movies too. Notably the Maze Runner series. She had a guest appearance on The Fosters as Kat to which she is open to return if the opportunity rises. "I loved working on THE FOSTERS. If they ever again have a place for Kat, the crazy piano prodigy, I would be more than happy to come back."
In the spirit of doing everything she is also open minded to do some explicit scenes. "I relish the opportunity of a challenge. As long as it is quality work, I'm open to exploring almost anything. I think saying no is a disadvantage when it comes to material. How do you know until you have tried or at least explored the opportunity of something? That's how you grow!"
To end our interview here is another question you might've wondered. "Describe your daily routine during filming time. How challenging does it get?" Turns out there is no routine. "Ha ha! There is no daily routine! Every day is completely different and that's why I love it so much!
---
If you read our interview last year with Katherine you should know that we give fans an opportunity to send questions to us which we deliver to Katherine. Here are a few of them answered:
describe Clary's style in #ShadowhuntersSeason2

— sabina¹³ (@pjminfilter) December 6, 2016
Katherine: Clary's style, like Clary matures a bit this season. More militaristic in some pieces, while still keeping a toe in the water of her boho artist roots.
what has been your favorite Shadowhunters memory so far?

— sabina¹³ (@pjminfilter) December 6, 2016
Katherine: There are too many memories to pick a favorite. Probably one of the many times we cracked up during a take. It's a great feeling to laugh uncontrollably with people you care about.
Do you remember your first day in Shadowhunters's set?

— Shadowhunters Poland (@TMINewsPL) December 6, 2016
Katherine: I do! We shot the first chronological scene of Clary entering the art school for her interview. It was so surreal – but felt like the right start to this journey.
Katherine: I treasure Simon and Clary's bond. It is probably the most sacred relationship to me and to Clary. Its what keeps her grounded. He has been there from the beginning and will always be there for her as she is for him. Alberto and I have had so many lengthy conversations and are constantly creating memories and experiences that they have shared together to enrich their on screen relationship even more. Their relationship changes quite a bit this season. I think fans will be very excited to see how it develops.
Simon will be in relationship with Isabelle? #shadowhuntersseason2

— å (@couturis) December 6, 2016
Katherine: My lips are sealed. 🙂
https://twitter.com/KATSDOMINIC/status/806222779821465600
Katherine: Clary has changed massively from season one to season two. She has learned a great deal and will definitely not forget the mistakes she made that brought her to this point. She is more mature, more wary, and definitely more badass.
Katherine: Getting into character for Clary every day really comes from the physical process. Her hair style, her wardrobe, the runes, are all so unique to her that by the time I'm done with hair and makeup, tie on her boots, and put on the rings she wears every day, I feel like her. When it comes to specific scenes, its all about remembering where she is coming from and where she is going – breathing Katherine out and breathing Clary in. Allowing myself to be immersed in the world and ready to play.
---
Shadowhunters Returns MON JAN 2 8/7C
On behalf of TV Series Hub, I would like to wish all of you a Happy New Year.