Thursday's episode of Superstore "Lovebirds" was another brilliant half-hour comedy that delivered so well, even though it took place during Valentine's Day. Here's a recap!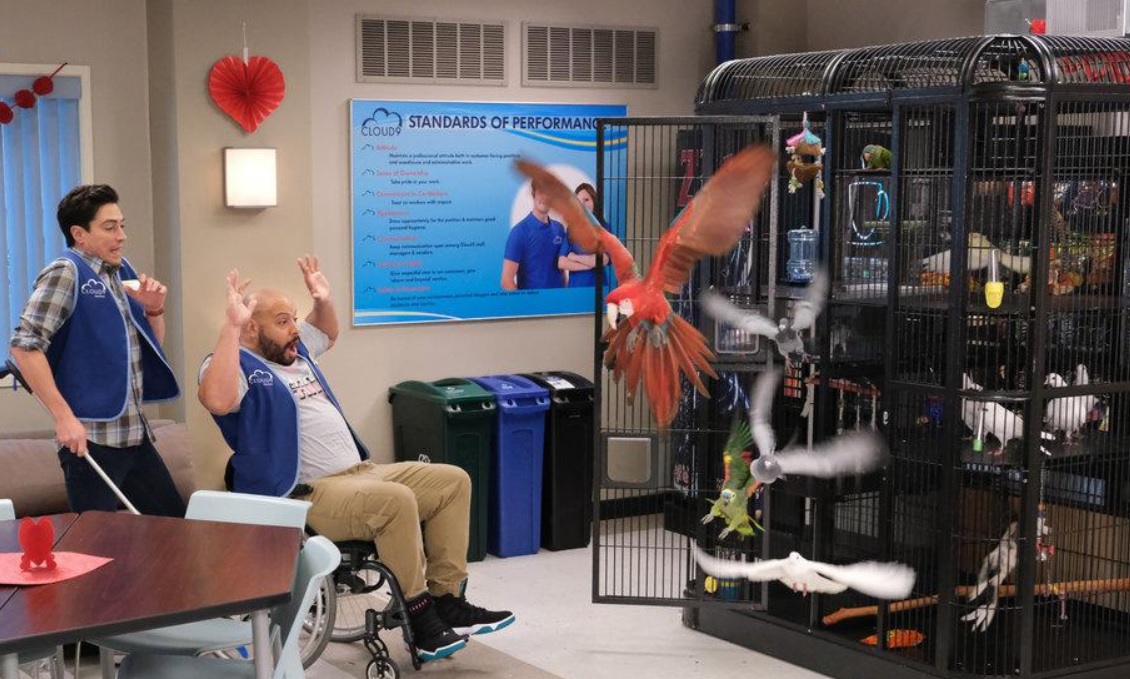 With everyone excited for Valentine's Day; not everyone was too pleased when Dina brought all her birds to work. But when Garrett saw that in the cage was a bag of his favorite chips; he tries to get it the birds escape and flew away.
Dina was so upset times ten; as she tries to call her birds back to her. With Garrett feeling horrible, with the help from Jonah and Amy; he tries to help Dina getting her hopes that they could have returned to her home, but they didn't it. Dina decided to take her mind off of her birds by having sex with Garrett, for which he didn't know how to handle in the situation.
Meanwhile, Amy and Jonah, while dealing with Dina and Garrett, decide to tell each other they love them. Somehow their saying "I love you" was underplayed; while being mad at each other for handling Dina-Garrett situation. But they made it up and headed out for their valentine's day date with Dina somewhere where no one goes…a tofu restaurant.
After last week's episode ending moment; Sandra started to get special valentine's day gifts. Everyone starts to think that she's pretending to have a boyfriend again. But after getting a teddy bear and a quartet sing to her, it turns out that her secret Valentine's day happens to be Jerry.
Cheyenne helps Marcus give him a tattoo of his mother on his back for a valentine's day gift for his mother. But let's just say that it didn't turn that well. As for Glenn, he tries to make a video for his daughter because he doesn't see her all that much. From reading books to give a toast to her wedding day, Glenn soon realizes that he doesn't need to manage anymore and walks off during taping.
"Lovebirds" was another hit episode for Superstore, not only did I love the situation that Dina and Garrett were put in. But I was stunned to see how the episode ended with Glenn deciding to leave his job. Also, Amy and Jonah saying love one another; it was so clever in the way that they said it. Lauren Ash and Colton Dunn deserve top performances of the episode. Loved the writing of the episode that it just had strong character development. Overall, I give this episode a 9/10.
What did you think of the episode? Leave a comment and tell us what you think!
You can catch Superstore Thursdays at 8/7c on NBC!